NOTICE: July 23, 2014
- We are experiencing phone outages due to the wildfire and now storm damage in our area. We have been able to maintain all data services for our clients with NO interuptions. We are still receiving email and that is the best method to contact us for now, we do have limited out bound phone from our internal IP phones, and will call you if we can maintain that connection
7-24-14 9 a.m. Carlton Complex East Zone Update Yesterday's Accomplishments: Dozers and hand crews successfully connected seven miles of containment lines across the fire's northeast flank, south of Highway 20, but the area is not yet considered contained. Unburned fuels remain between the main fire and the containment lines that may challenge the line when temperatures rise and winds pick up in the next several days.
Equipment to detect underground heat near containment lines arrived. Crews used the detectors last night to find and extinguish any heat remaining within 300 feet of homes.
911, Phone Networks Affected by Outage: Emergency responders and residents are affected by a widespread outage in cell-phone, land-line and internet service in Okanogan County. The outage also affects the Incident Command Post at the Omak Stampede Grounds. The fire acreage is 250,489 acres with 52 percent containment. Today, 2,858 personnel are assigned, including 59 crews, 212 engines, 13 dozers, and five helicopters. Air tankers are available, if needed.
Welcome to KCI /
ARENA MANAGEMENT SOFTWARE
509-826-3668
office
Solutions & Services
Arena Manager Manual for Penning & Sorting Formats
KCI offers advanced sports event, member management and event entry solutions. which boost efficiency, productivity and profitability in event production and facility use.
How does it work? Quite simply, our sports event, member management and event entry solutions work because our products and services are designed in the field and tested in the field by top producers all over the U.S.A., Canada, and Australia.
We don't stop there, KCI also collaborates with the industries leading event producers and sports sanctioning associations to deliver products that not only have the features and formats you want, but the foundation you need to run your operations over the years to come.


KCI ONLINE ENTRY- custom online event entry for event producers, and rodeo associations, the system is run on secure MS SQL servers. The system provides a separate entry page for your contestants to make their entries, and completely separate administrative web interface to allow you to make entries and changes to existing entries. It allows the producer to set event caps, and reserve stalls and RV's. Makes provisions for "Late" charges on entries made after a cut off date. KCI has processed over 50,000 online entries for our clients in the last 3 years.
LITTLE or NO START UP COSTS from KCI, service is billed on a "per entry" basis , and in most cases changes your entry process from an expense to a income item.
REALIZE your potential, download and install the Arena Management Software (evaluation mode), call us or email us today and enjoy an easy, no risk, 10-15 minute demonstration! See for yourself how we can help you reduce the headaches of managing your events.
click here for download SAVE to your computer, unzip the file and INSTALL to your computer

Arena Management Software
Equine event software for barrel racing, rodeo, team roping, and team penning / team sorting events. Easy "point & click" entries, draws, results, check writing, keeps season and series points and earnings for your contestants. Ideal for the private producer, roping clubs, barrel racing district groups, cowboy churches, and high school rodeo, junior rodeo, gymkhana groups.

click here for download - SAVE- to your computer, unzip the file and INSTALL to your computer
Web Manual overview- will open in new window

Association Management Software
Corporate Class software for any size association to manage their members, communicate membership ratings and other data to affiliated producers/groups, allow producers to upload event results back to the association, track member earnings and points over the years. Produce standings reports, manage web reports. The Association Manager is used by many Association, including The Canadian Team Penning Assoc., World Barrel Racing, Team Pen America, Original Team Roping Assoc. and rodeo associations
Call for pricing for your organization.
click here for web tour takes a minute or two to load, be patient

Central Entry Software
Entry Software designed to allow any rodeo producer or association or groups with similar requirements to take entries for multiple events, with multiple performances. The program will perform random preference draws, assign a draw order by event, by performance. The sanctioning group has many options to manage the events according to their rules.
KCI also will provide this service as an outsourced service to producers or associations on a per entry basis.
Call for pricing for your organization. NOW INCLUDES RODEO ONLINE ENTRY OPTION
for a tour click here KCI-Central Entry takes a minute or two to load, be patient
Click here for Rodeo Central Entry 2014 overview
Click here for Rodeo Central Entry 2014 overview
Check out "myTrailer" app for your Windows Phone
myTrailer


IT IS FREE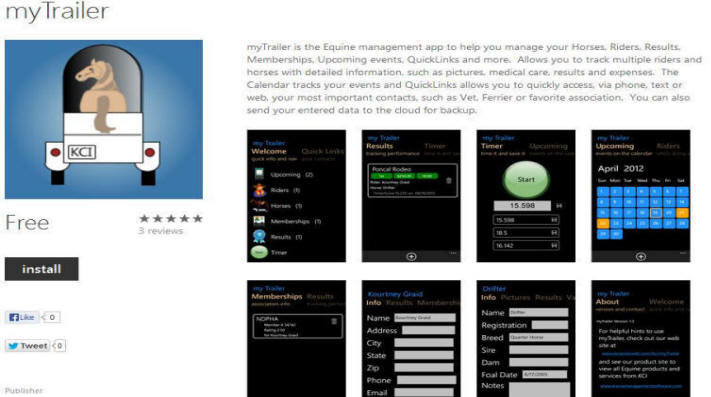 Other DL's